"Thirsty Thursdays"
88 replies
That is, we can call it that until/unless you comment a better name — as Andy would put it, "time's yours."
Welcome to the inaugural edition of newly minted "Thirsty Thursday (or whatever we collectively decide to dub it)." It's come to my attention that more people than myself enjoy a tasty, spirited beverage — and you are my kind of people. So let's talk alcohol in all its' forms for a while, shall we?
A Complete Hand Off (and I'm not ashamed)
Embed from Getty Images
The guy in the picture looks pretty trustworthy, right? Relaxed, arm on a keg, probably wouldn't teach you how to brew beer wrong? That's exactly how I envision "sportingchiefs" of Morning Huddle fame. A true underground hero, as well as educated and, what I'm pretty sure means a compliment, on fleek.
Annnnnnd this is where I ask you to recall a certain conversational piece that I feel was stolen from me prematurely, before I was certain that this particular topic was going to come to fruition …
Strange Revelation of the Day
You know what I really enjoy? A beer. You know what I'm not exactly standing in line for? A soda-like beverage with a light alcohol content which essentially tastes like a Sprite that has sat out in the sun for most of the afternoon that you think you can revive with a few ice cubes. LaCroix with attitude. Passive-aggressive sparkling grape juice.
So why the hell am I talking about this(?):
Because they're damn good, that's why.
I love heavy beer during colder temperatures. Drinking a thick-ass brew in the depths of December is one of the brighter moments of winter time (aside from snow blindness). But this little firecracker is something that just seemed to fit with last night's temperatures and atmosphere.
It tastes like a caffeinated lemon-lime drink, yes, but it's not as off-putting as most of the others I've had previously. It's also comprised — according to the words on the can and the little-to-no research I did to confirm it — of Vodka, Tequila, Gin and Rum. So don't judge me.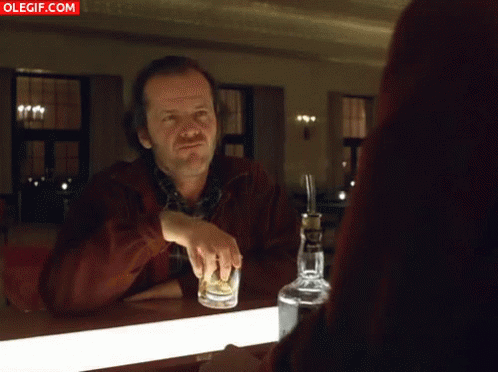 What The Hell, Oklahoma?
This isn't the first time I've seen this phrase — there's also a gas station by my office in Olathe that espouts the same thing. Which leads me to believe that Kansas and Oklahoma are a few decades behind when it comes to knowing what good beer is …
Seriously, you're making yourself look silly.
Insert Recurring Theme Here
I promise you, had I known that I would be doing this prior to the night before it was due (college flashbacks anyone? No, just me? Wait, I didn't go to college …), I absolutely and 100% would have taken this opportunity to buy a new kind of whiskey every week and tell my wife "it's for work." I swear. I think you believe me.
Since that isn't quite the case, I guess I'll review what I have been drinking for … well, much too long now:
American Honey (singles)
I never said I was proud: they're decent, they're convenient, and most importantly, I can show up to any get-together or festivity fully loaded to drink within a jacket or my wife's purse. Single-serving excuses to use the pisser during the singing portion of holiday gatherings, and a convenient way to tolerate those around you that you might otherwise trip into traffic.
All Together Now
This is going to be a really fun weekly segment … if I didn't write it, I would totally guarantee it. Please always feel free to send in your projects, hobby-work, or just simply a new brew you recently tried. We're the one-stop-shop for all things 'hops.'
So I guess my send-off with this would be — what's your drink of choice? What should we look into more closely next week? I'll do my best to bring in a new beer and hopefully a new liquor, but you folks are Arrowhead Guys, so let's make this happen together!
Also, whichever Feature Name Idea gets the most likes will be the one we go with from here on out. Does Namer Of The Weekly Beer Feature sound like a title you want? You can only get it here. AG exclusive. The People's Choice.
May the hops be ever in your flavor …