Tastes Of The Town Tuesday
48 replies
I'm assuming we all survived the usual gauntlet of horrible April Fool's Day pranks. Anthony With The Tattoos decided to gussy up the home page a bit with a dastardly re-direct. Trade rumors swirled endlessly from small-fry accounts on the ol' Twitter, only one being true. Speaking of stupid prank attempts:
No worries, Tom. With Mahomes front and center in the league now, nobody really cares what you do one way or the other.
Spring Cleaning … Take Two
With warmer temperatures finally becoming a real thing in Kansas City, many of us are taking to the yards and houses to tidy up after a brutally extensive winter. Leaves, brush, trash, clutter, everything that took up too much space or was a general eye sore is now being removed.
In completely related news …
This is more about me having a question for you fine folks than an informative topic; have any of you used that "1-800-Got-Junk" place? We have about a truck-full of unneeded widgets and what-have-yous that need a new home — or just a landfill.
Or if anyone just has access to a big truck and wants a bunch of "stuff," it's all priced at Free or less.
Kansas Finally Does It Right
After decades of having to endure the beer equivalent of juice boxes, April 1st marked the first day that the state of Kansas allowed the sale of actual beer at grocery stores and convenience stops:
Now, I'm not sure what you Kansans were doing before this finally happened (I'm assuming you had some kind of dedicated store from which you could purchase legitimate alcohol), but I'm disappointed that it took you so long to demand such a basic luxury.
You should probably have spent a bit more time on the promotions for it as well …
National Mahomes Sighting
I know this is Taste of the Town and it's supposed to cover local events, artists, etc, but Mahomes has become a cultural icon here and by golly, if he does just about anything I'm going to talk about it!
Even if it's just a spot on a talk show. Now, in my opinion, Jimmy Fallon could walk into an empty room and still be the third funniest person in it, but hopefully he gave PM2 a chance to shine once again in the national spotlight.
Did any of you catch it last night?
A Few Random Interesting KC-Related Tweets
Weekly Debate Fire-Starter
This one is going to be extremely open-ended and may end up being a dogpile as opposed to a "line in the sand" ordeal. It's simple:
What is the worst restaurant in Kansas City and why is it Applebee's?
This past Saturday, Wifey and myself stopped to eat at this awful excuse of an eatery on the way to our friends' house. I'd been to one before, many moons prior when I was but a young boy — and let's be honest, chicken strips are chicken strips to a 10 year old.
As an adult, I was shocked.
I ordered the Bourbon chicken and shrimp; should've been a good meal, right?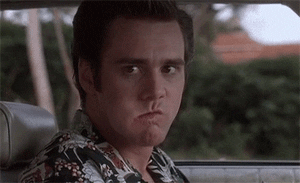 I imagine that I would have tasted more flavor in a paper napkin. They should be held accountable for killing that chicken for what equated to no real reason. For the first time in my life I sided with PETA. It was as if the person who cooked it found mayonnaise too spicy. Gordon Ramsey would have an aneurysm in the parking lot.
I have had a more pleasant flavor experience when vomiting tequila.
So, needless to say, I'm pretty upset at having wasted precious moments of my life and tastebuds at this poor excuse of a "restaurant." I've felt more satisfied after a Kraft singles and potato chip sandwich. I would rather let Wesley Snipes do my taxes than ever set foot in an Applebee's again.
What's your worst restaurant experience?