Science Saturday Open Thread
141 replies
Last we covered a big question that I felt was overrated in "Are we alone?", and this week we'll begin to address another big question that is overrated.
Where did we come from?
Yet again this is one that we have a good answer to, which is evolution. Technically there's only one part to evolution, but the way most people think about it it's actually two separate ideas.
How species change over time.
The mechanism by which this change happens.
Only the first one is technically evolution, but the second one is what Darwin discovered and was really the key to figuring out natural history, and what we'll focus on this week.
This mechanism that Darwin discovered and described in On the Origins of Species is called "natural selection". Let's take those two words separately.
First up is "selection". When an animal reproduces it passes on some of it's characteristics onto it's offspring. Tall people will have taller kids, people with curly hair will have kids with curly hair, etc.
So if a certain trait increases the chances of that animal surviving and reproducing, more of those animals will have that feature.
For example, take rabbits living in the arctic. Some rabbits have lighter hair than others. Those with lighter hair are harder for predators to spot, and are less likely to be eaten. Those that survive are able to pass on their genes.
Over time the rabbit population will have lighter and lighter hair, until they're all white.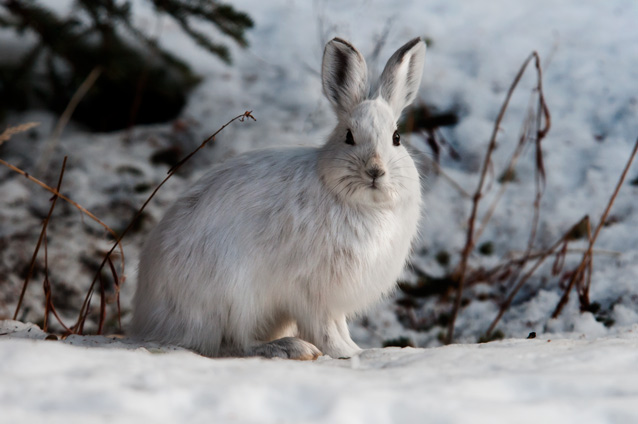 But these characteristics aren't always preexisting in the population. Sometimes there are mutations, which are changes in these traits that aren't from the parents. We now know these come from errors in DNA replication, but DNA hadn't been discovered back when Darwin was alive, so he didn't know exactly how this happened.
Most of the times these mutations are harmful and thus are selected against. But occasionally they'll introduce a new, positive trait to the population, which will spread over the generations as it's selected for.
So that's "selection", "natural" simply means that it happens naturally. There is nothing actively guiding this process. The "selection" is only due to the environment being better for certain traits.
There are other forms though. As you can imagine, if there's a natural selection, there's also artificial selection. This is when this process is guided by somebody or something. This is usually humans selecting plants or animals to fit our needs.
There's all sorts of examples of artificial selection. Here in Missouri a prime example is corn. Corn, as it existed before humans, was crappy, having just a dozen or so kernels. Of course corn now is huge with tons of kernels.
Another type is sexual selection, which is really a form of natural selection. This is when traits are passed down to one gender because the opposite gender prefers it. This is usually females selecting traits in males.
An example of this is in bird species the males are colorful and bright, while the females are brown and demure. This is because the female birds prefer the colorful males, while the males will mate with any old female.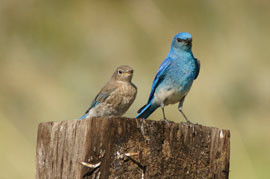 That's about it for the selection part of evolution. I'll do more evolution posts in the future going into more depth on the change over time part.