AG's Quarantine Survival Guide: TV Shows
55 replies
Welcome the AG Quarantined Guide. Today the AG staff will be giving you ideas of TV shows to binge-watch while stuck at home.
This stay at home thing sucks. Even if it's for the best, let's be honest we are are all so, so bored. No bars, no in person hangouts, and worst of all no sports!
But don't worry, AG has still got you covered to appease that boredom, at least temporarily. Each staff member will be giving you their personal recommendations on various activities to help you get through this whole social distancing thing. We highly encourage y'all to share your picks in the comments below, as well.
Next up is TV shows. With the presence of online streaming the options seem endless, but with that comes the catch-22 of finding something actually good. So, gals and guys…what have you been binge-watching?
MITKO:
If you read Friday Night OTs, you'll know I'm a big zombie enthusiast. So unsurprising I'll be recommending a zombie TV show streaming currently on Netflix. (In fact a few more topic may be zombie based as well.) No I'm not talking about that overrated "The Walking Dead". Instead I've currently been binge-watching "Kingdom", which just released it's second It's a dubbed thriller set in Korea during the Joseon period after the recent invasions by Japan and introduction of firearms. I've recommended this to people who are even "meh" on zombies. It involves political conspiracies among a battle with the undead. Unlike most zombie movies, the characters have extreme depth, it doesn't rely heavily on guns, and has wonderful fighting choreography. Korea knows how to do horror and "Kingdom" is no exception.
BRAG:
It's long been established that I love me some infotainment, so with that in mind I suggest Time Team. It's a British Ch. 4 production rather than BBC, but it's still doing sound archeology in an easy to follow way. The premise is a team of experts take three days doing an investigative dig, as opposed to a full-on excavation that we normally associate with archeology presented in a 1-hour format.

They primarily dig in the UK, but also have done work elsewhere, such as in the USA and France. Every dig's interesting in its own way, and in terms of range their digs span everything from the stone age to WWII. Of particular interest is their Roman digs, and following along with those can teach you a lot about the Roman rule in Britannia. There's similar threads to follow involving everyone from Vikings to Celts.

The team's composed of some colorful and interesting people, too. Phil in particular is wonderfully quirky, what with his hat thing, long hair, love of beer, and a tendency to say things like "stone the crows" in a completely natural way. He's energetic and good-natured, and at his happiest when he's digging down to the artifacts.

But there are others on the team, and one of the more interesting things to watch develop is the progress of John's "geophysics" team as they progress in technique and technology over the 20-year life of the program, not to mention the additional specials, one of which was a dig on royal property, with the Queen dropping in to check on the progress. At first John gets a lot of razzing about his results, but his improvement, though slow, is steady. Then again, the show itself develops along the way, so while the first couple series/seasons are a bit clunky and short, once they hit their stride it greatly improves.

Last but not least are the creators of the series, the late Dr. Mick Aston, an archeology professor, and Tony Robinson as the presenter. Mick provides the guidance for each dig and discusses what's going on with Tony taking the "everyman" role so they can discuss things so the general public can easily understand. I binge watched the whole series, with the exception of the last few seasons after Mick had left the show. Tried a few, and it just wasn't the same. Anyway, all 215 episodes are available on Youtube and the specials on a different playlist at the same channel. Protip: Learn how to skip the intro theme, a few minutes times 215 really adds up.
DAVE:
Well, since I'm still working daily and have limited TV-watching time, I'm taking Tiger King. seeing as how it's the only show I've finished. And if you still haven't seen it, my gawd, please do so.

As about 99% of the world already knows, the show mainly follows Oklahoma native Joe Exotic, a mullet-haired, gun-wielding, country-music-singing, big-cat-owning polygamist of the homosexual persuasion. If that description alone doesn't make you want to stop what you're doing and check it out, you have no hope.

It follows Joe's exploits as a "zoo" owner, along with a colorful cast of possible-murderers, cult-leaders, con artists and assorted other "ne'er-do-wells" while he attempts to battle an animal rights guru whilst also running for multiple political offices. Yes, that's a thing in this series.

The ending will make you sit back and say "whaaaaaa –" and you will absolutely be entertained throughout its' entirety. My suggestion is to watch at least the first two episodes, as the first one is slow to break into the craziness. By the end of episode two, it's too late — you're hooked.
TONY:
Kenny vs. Spenny is the greatest reality TV show of all time, and every episode is free on YouTube. It's about two guys in Toronto and do a different competition each episode, with the loser having to do a humiliation. These competitions range from the normal (who can gain the most weight) to the absurd (who can wear a dead octopus on their head the longest).

But the best is, of course, who can blow the biggest fart.
CHRIS:
The Sopranos: This is probably the only series I have watched every single episode of. I watched it all on my second deployment, then actually watched it again. We do not watch network TV in our house, so I am not up on any of the current sitcoms they have out.
Anthony:
The obvious answers here are either Game of Thrones or Breaking Bad. They are probably the best TV series ever made, and since you're never going to be able to leave the house again for the rest of your life, you are in luck because both are long running shows with plenty of hours of viewing to keep your lazy ass occupied without having to leave the couch. But that's just too easy. No, rather, I am going to tell you to watch the best terrible show ever made. Dexter.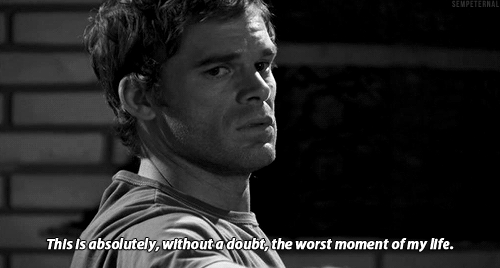 It's genuinely terribad. And yet, somehow you will keep watching it throughout until its very painful end. With the exception of Michael C. Hall, who plays Dexter, the show producers set out to cast the absolutely worst actors possibly available. I've seen more convincing acting from Patrick Swayze…and he's dead. But not to be outdone, they also hired the worst script writers known to man. The dialog is atrocious, and the delivery disturbingly off-cue. However, due to some mystery beyond my mental grasp, they managed to develop a storyline surrounding this main character that truly drew you in. And whats the premise? Well, it's about a relatable serial killer. Sound fun? Fantastic.
About Author