Your RED Friday Preview
36 replies
Time to get HYPE for the game, its Red Friday Chiefs Kingdom!!!
The Chiefs ravaged the Raiders in the very last showdown in the Oakland Coliseum, beating them 28-10. By doing that, the Chiefs officially closed the door on that stadium by winning the very first meeting in 1960 and the last in 2019, with the Chiefs holding the all time record there at 22 wins and 20 losses. Feel free to remind Raider fans as necessary.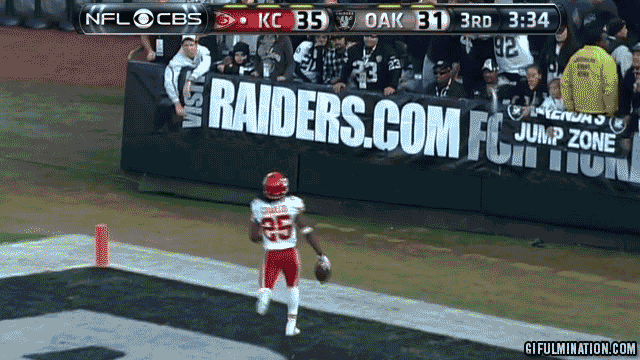 Adam: With that dominate win over the Raiders the Chiefs now set their sights on the 1st place AFC North team, the Baltimore Ravens.
The Chiefs Vs The Ravens!
Adam: We can't talk about this week's game without bringing up the last match up. We all remember that game.
The Raven's brought a tough, well schemed defense to Arrowhead and took it to the Chiefs O-line and Mahomes. Mahomes was hit numerous times and faced pressure all day. Had the Ravens offense been even average they would have likely won that game. To say that it should give everyone at least a bit of pause when looking at this Sunday.
Dave: Dolphins and Cardinals and Ravens, oh my!
I'm not a scientist, but I am about to coin a term here called the "Factoring in All Known Equivalencies (FAKE) Factor" (that actually may already be a term, that shit sounds smart as hell).
For example, if I stand next to Brad Pitt, I'm an absolute "4" on a good day. But, if I stand next to, say, Steve Buscemi, suddenly I look a whole lot better. I have a feeling you already know where I'm going with this …
The Baltimore Fakin's played a Miami team that spends more time finding a way to lose than Wile E. Coyote. The Dolphins are basically Dave Chappelle's "Tyrone":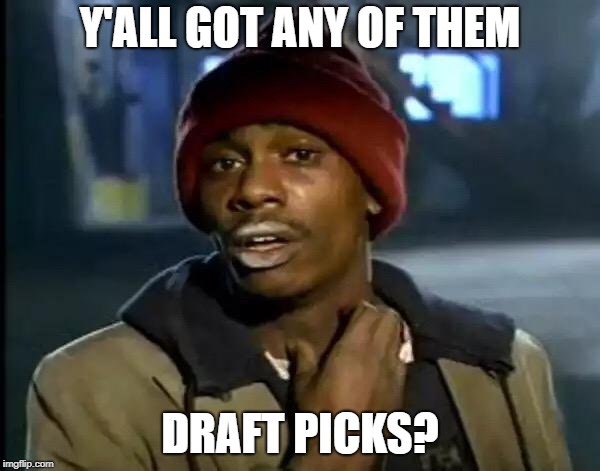 Seriously, if you're a fantasy football player, you already know to play any position from any team that's playing the Dolphins. It's that bad. Hell, even Derek Carr would put up more than one touchdown against that franchise this year …
They also beat a Cardinals team that employs a quarterback who has to strap phone books under his feet to see over his offensive line. Arizona should dedicate a tight end to carry Kyler Murray piggy-back style every snap so he can scan the field better.
With all that said, I believe the FAKE Factor is strong with Baltimore.
Lead running back Lamar Jackson made some good throws against some bad awful terrible Bob-Sutton-esque defenses, but I've also seen Ryan Fitzpatrick shred some decent defenses to the tune of 5 touchdowns before going full "Pick-patrick" in subsequent games. So forgive me if the phrase 'what if Jackson shreds our secondary' hasn't crossed my mind.
Now, from a ground-game perspective, Baltimore may cause a few headaches. Mark Ingram is no slouch, and while their offensive line isn't great in pass protection, they are stellar when it comes to run blocking. They are basically the anti-Cam Erving.
There is never a defense that I am concerned with when it comes to the Chiefs offense. We've plucked and cooked the Ravens before, and I have no problem believing that we will do it once again. Baltimore has made some additions to their defensive squad — namely Earl Thomas — but with as much as our skill players are going to boil that man his name may as well be Earl Grey.
I have respect for Mark Ingram. I do. As the teams' #2 RB I do fear him a bit. However, Tyrann Matthieu posed a good defensive strategy: clog the line and make Jackson throw the ball. If Spagnuolo can implement the kind of defense we brought him here to design, then we should be able to re-write what Edgar Allen Poe once said:
"And I quote the Raven(s): never score."
But, as always, when the day looks darkest, we have a Mahomes:
Adam: Dave, I totally thought that Tyrone jab was going other places. Places like the unemployment line…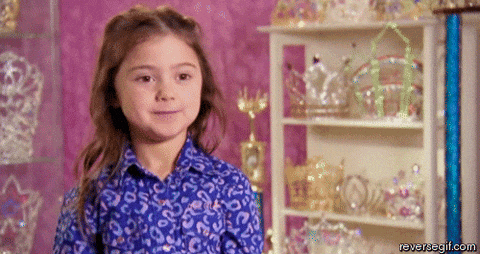 But anyways…
When Reid was asked about Lamar Jackson last season and this is what he had to say.
"Lamar, he gives you – he can run like a running back, he's as fast as a wide receiver, and he can throw like a son of a gun, like a quarterback, so that's a pretty good combination to have."
While Andy is never not going to say nice things about players he did mention that last part and I think that was on purpose. As a coach that coached Michael Vick, Lamar's comp, Andy sure knows what that kind of challenge that can be to defend.
Oh and since I'm on the Mike Vick train for a second, Andy's Offensive Coordinator for Vick's time in Philly was Marty Mornhinweg. We shouldn't be surprised with the success the Ravens have had with Jackson. They will try to do with Jackson what they did with Vick. The chiefs will need to keep their eyes peeled.
Still... Harbaugh is 1-3 all time against Reid. The Ravens defeated Reid's Philadelphia Eagles in 2008, but lost to Philadelphia in 2012 and Kansas City in 2015 and 2018. Reid is still a tough out for all of his coaching proteges and that should give some comfort to the Kingdom.
What to Watch for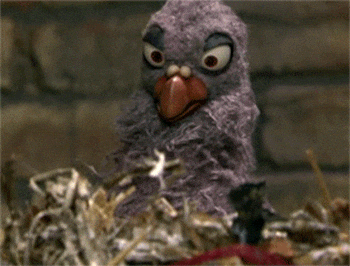 Cam Erving, everything Cam Erving does, we need him to ball out
Chiefs front 7 stopping the run
Spags plan for limiting Hollywood Brown
Will we see Darwin Thompson get some touches this week
Mecole came up big last week,look for it again.
Mahomes ankle progress, is he mobile
Frank Clark's first real sack as a Chief
4 Keys to the Game



Chiefs Defenders shutting the run game down of Baltimore.
Chiefs O-Line covering the stunts and zone blitzes that are coming.
Winning the Turnover Battle.
Chiefs getting a lead early.
Potential Prop Bets
In every game, amongst friends, you can always make some small wagers on the outcomes of the likelihood of certain things occurring. Here's some fun ideas to play around with:
Earl Thomas claims to stop the Chiefs big plays (O/U: 6)
Earl Thomas actually stopping the Chiefs big plays (O/U: 1)
Odds a new decibel record is set after Mahomes 5th touchdown (O/U: 142.2)
Likelihood we break yet another team for the rest of the year (O/U: 8)
Kansas City remains undefeated (O/U: 3 – 0)
How to watch and Listen
September 22nd, 12:00 PM Arrowhead Time
Location:

Loudest place on Earth, Arrowhead Stadium KC, MO
TV Coverage:

Locally on KCTV5 41 KSHB, NFL Network, CBS
Chiefs FOX Football Radio Network KCFX (101.1 FM)
Live Stream: