More Berserker's Camp Notes, for Wednesday 14 August
13 replies
Gorgeous weather today, low 70s, absolutely perfect.  Much nicer than yesterday, which was so hot that the KC media interviewed Kelce about it, and Kelce actually gave them a serious answer.
The JUGS machine is launching end over end kicks to start practice today.  All the returners seem to be handling them, as far as I saw, although I might've been distracted a bit with crowd watching.
27 Fenton is working hard every time I see him.  This morning he's showing good technique on kick returns.
10 and 11 ridin dirty. Having some fun with the music selection.  (Also it's true, the older you get, the more worthless new music seems to be.)
Spags is personally driving a warm up drill, using the ball-on-a-stick to simulate a snap.  "Don't take all day to wake up!"
DBs are practicing a long back pedal, like for about 25 yards, and then turn and chase the INT. Merritt is making them stop and repeat if they mess up.  He's also making fun of his own not-accurate throwing skills.
54 Wilson and 53 Hitchens are the only starting LBs in first combined coverage drill.  Combined coverage drill meaning LBs + DBs, but without offensive players.
59 Ragland and 50 Lee with the twos for this first period.  Also 22 Thornhill, 23 Watts, 26 Fields, 27 Fenton, 34 Miller.
55 Clark has no helmet, but he's participating in walk through drills. 
92 Tanoh, 95 Jones, 91 Nnadi, 57 Speaks is the starting 4-man line from left to right in the walk through period.
97 Okafor, 95 Jones, 55 Clark (still helmetless) is the "starting" 3-man line today. 
90 Ogbah, 74 Hamilton, 93 Ivie, 52 McCray are on the other side of the defense's field with the 3/4s.
22 Thornhill and 49 Sorensen are standing side by side in the deep secondary.  "Sorensen, teach this kid how to play.  Because he's soon going to be much better at it than you."
54 Wilson is lining up all along the line of scrimmage for blitzes. 
Scrimmage time!
54 Wilson seems to be replacing 59 Ragland when there's only two LBs on the field.
Starting WRs rotating alot. 13 Pringle and 19 Kemp getting reps with Mahomes. No Watkins today?  (I just read that both Clark and Watkins are sick.  Which club they go to?)
26 Williams is the starting RB, drops a pass early.
SPEAKS AGAIN!!!! WITH THE INT!  This time nobody takes it from him, and he rumbles to the EZ. Zone blitz put heavy pressure on Mahomes and blinded him to Speaks' lurking, just like yesterday.
40 Wade is back out there today with the twos.
74 Hamilton looks good in scrimmage.  He wants his Superbowl ring.
81 Bell makes a tough catch through 22 Thornhill.  Thornhill tried to strip it out, but Bell was too sticky.
42 Sherman shows good hands on a middle post pattern.
56 Niemann, 59 Ragland are the 2nd string.
97 Okafor is 3rd string. (!)  With 96 Walker, 99 Saunders, 94 Dimick.
44 DoD, 46 Davison are 3rd string LBs.
24 Lucas INT! Aaand break, back to individual drills.  Defense won that round.
Sam Madison taking the CBs through tackling and cut block-blocking drills.  Madison seems to be a good presence on the staff, often hear him dropping veteran knowledge to his CBs about tactics and tricks that opposing receivers will use on them.
Time for 9 on 7 run scrimmage…
26 Williams is up first, shows good patience working through the hole.
54 Wilson again starting, no 59.
92 Tanoh and 91 Nnadi (but mostly Tanoh) get coached after a good run to defensive left side.
43 Monroe gets into great kill position on a quick pitch play.
62 Reiter buries 91 Nnadi on a sweep!  We might be kinda OK at center this year.
This drill seems to be the starting Dline and LBs, backup DBs…  Yep, the starting DBs are with the WRs on the other field, practicing the flashy stuff.
96 Walker is showing up on 3rd string again, makes stop in back field.  Second day in a row I've noticed him doing good things.
99 Saunders looks quick, but gets pushed too easily. 
Full scrimmage now!
Starters on Dline are 92 Tanoh, 95 Jones, 57 Speaks left to right.
87 is just casually dominant.  If it doesn't seem like you're reading much about him in camp reports, well… every time you're not reading something about him, just assume that he's winning at everything.
56 Niemann is getting a turn with starters.  Interesting, since Lee seemed to be getting these reps earlier in camp.
Defense has good coverage today, forced the starting offense into a FG.
Your 2nd defensive group up is 40 Wade, 26 Fields, 27 Fenton, 34 Miller, 46 Davison, 90 Ogbah, 93 Ivie, 97 Okafor (!), 74 Hamilton, 23 Watts, 22 Thornhill.
44 DoD is in the 3rd rotation, having trouble covering 81 Bell on a square-in.
43 Monroe gets a good pbu vs 83 Thompson.
81 Bell good catch for the first down.
Second time through with the starters, 22 Thornhill lines up deep, 49 Sorensen lines up at LoS.  Mathieu just goes where he wants.
22 Thornhill and 35 Ward combine to force a throw away on planned deep out to 10.  Good combo coverage on that one, with Thornhill chasing underneath and Ward coming over the top.
55-yard FG attempt… DOINK!   Damn, Buttkicker.
D plays good prevent on a (simulated) final TD attempt from about the 15-yard line.  15 scrambles around like Tarkenton, finally tries to run it in.  Hitchens meets him at the goal line, and both sides claim victory.
7 on 7 time!  All passing, all the time.
53 Hitchens and 54 Wilson are the only LBs to start in this session.
22 Thornhill deep.  No 49!
19 Kemp is getting starting reps.
19 with a great diving catch!
81 Bell looks like the 2nd TE to me at this point. But, he just now tips a pass into a possible INT.
56 Niemann with a nice juggling INT between 82 Yelder and 83 Thompson.  There might be hope for him yet.
92 Tanoh displays a nice inside rush move in Thunder Dome (which is the name I'm going to use in my head for the one-on-one Dline vs Oline pass blocking drills).
21 Breeland with another INT!  He jumped in front of 87, who afterward re-adjusts his wristbands in shame.
4 Henne shows really good touch on a pass to 81 Bell in the cover-2 hole.
92 Tanoh is covering 89 Davis in 7 on 7. Seems like a mismatch.
Hill beats Mathieu in press, and then outruns 22 Thornhill to the catch and the TD.
19 Kemp looks strong going up for a deep sideline rocket from 15.
53 Hitchens surprisingly has good short coverage on 10. But 15 scrambles to buy time, 10 gets away from coverage, and Zoom happens.
I can often see that the defense is practicing on getting exactly to their assigned spots in their new zone scheme, and then properly converging for the tackle, more so than actually covering receivers, especially it seems for the LBs. I think that was also the case during Dalton's dink-dunk opening drive last week.
23 Watts is still looking solid. I'm starting to feel good about his chances.  It'd be nice to keep both Watts and Lucas, but I'm feeling like it's going to be one or the other.
Last 7 on 7 rep, 44 DoD stays with 81 Bell very well on a middle stop route.
Next scrimmage, Offense Coming Out of Endzone!
This is an interesting drill.  The ball gets spotted on the offense's own ½ yard line, and it looks like the aim of the first play is to pass-block long enough for a WR to get loose down the sideline.
First rep, 11 Robinson drops a nice sideline pass.  Uncharacteristic for him this year.
Defensive backfield – 32 deep, 22 Thornhill LoS, 49 Sorensen bench.  I can't say that Thornhill has taken the starting spot yet, but it seems like he's consistently getting starting reps over Sorensen in passing situations.
49 Sorensen subs in for a LB on 3rd down.
32 spies 26 Williams on a swing pass, stops him short of the sticks.
53 Hitchens has a good rep, shoots the hole on a middle run.
3rd and 3, 3 safeties, 22 Thornhill deep, 53 Hitchens is the only LB.  Bubble screen to 10, is effective.
21 Breeland screws up just like he did Saturday, lets 17 Hardman loose down the sideline.  15 is not Andy Dalton.  70 yard TD.
Double DB blitz gets instant and terrifying pressure on Mahomes.  21 Breeland and 49 Sorensen from opposite ends, along with 97 Okafor, are in the backfield almost before the snap reaches Mahomes.  There was probably somebody open, but zero chance to throw the ball.
My camp hero 34 Herb Miller has a bad rep, 17 Hardman gets behind him. Could have been a 99 yarder.
3rd string, 81 Bell beats 20 Claiborne down the sideline to get the offense out of its own endzone.  Bell knows and uses his height advantage.
99 Saunders flashes through on 3rd string to chase 9 Bray Shurmur through the endzone.  Someday, 99 could be something special.  But this year, all his wins probably need to come in the weight room.
Practice ends with 10 solid minutes of kickoff coverage practice.  Makes sense.  These Chiefs are going to kickoff a lot.
GO CHIEFS!
I like visiting practice in St. Joe.
---
Even Canadians like visiting practice in St. Joe.
---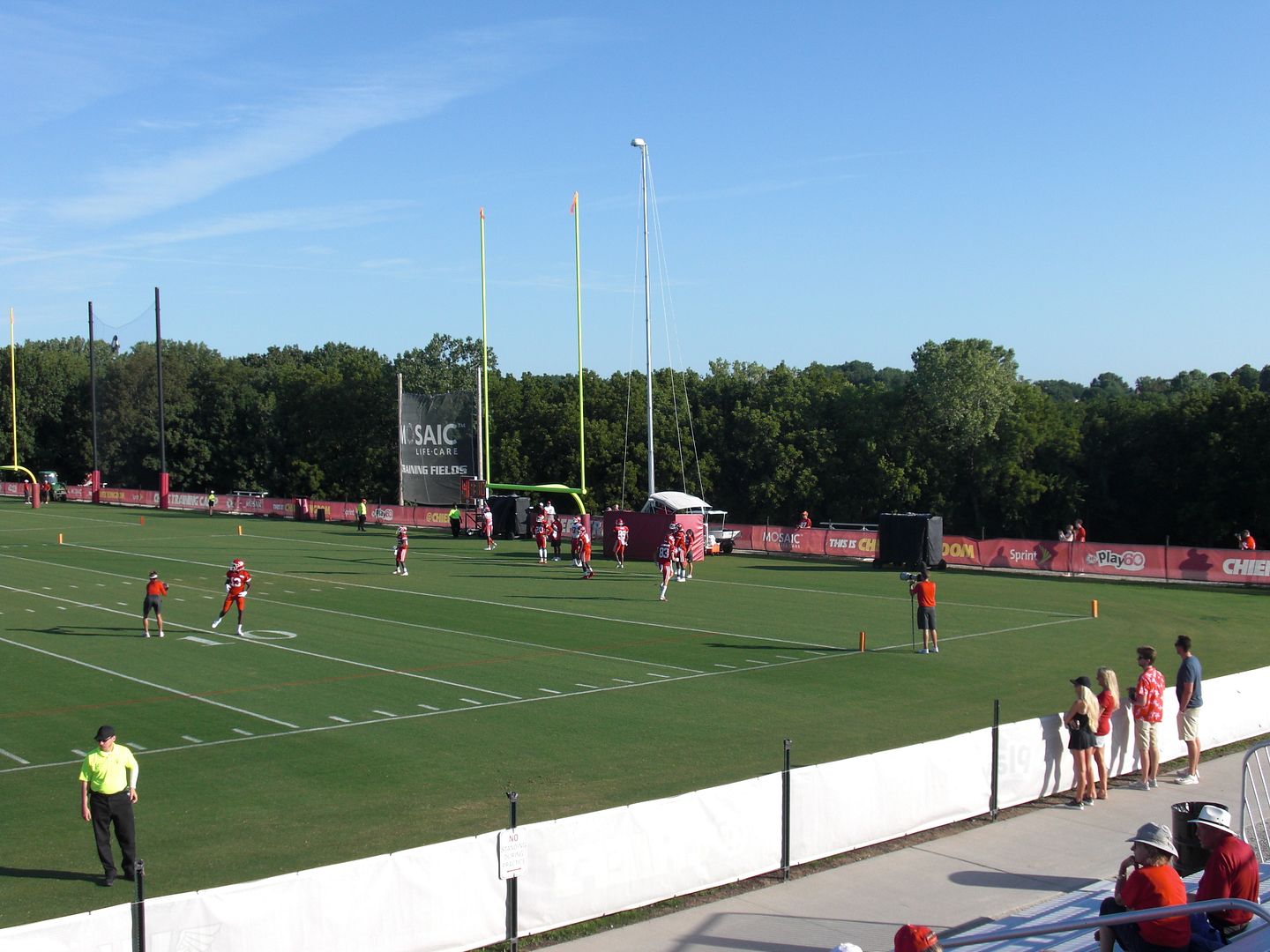 Beautiful day for football.
---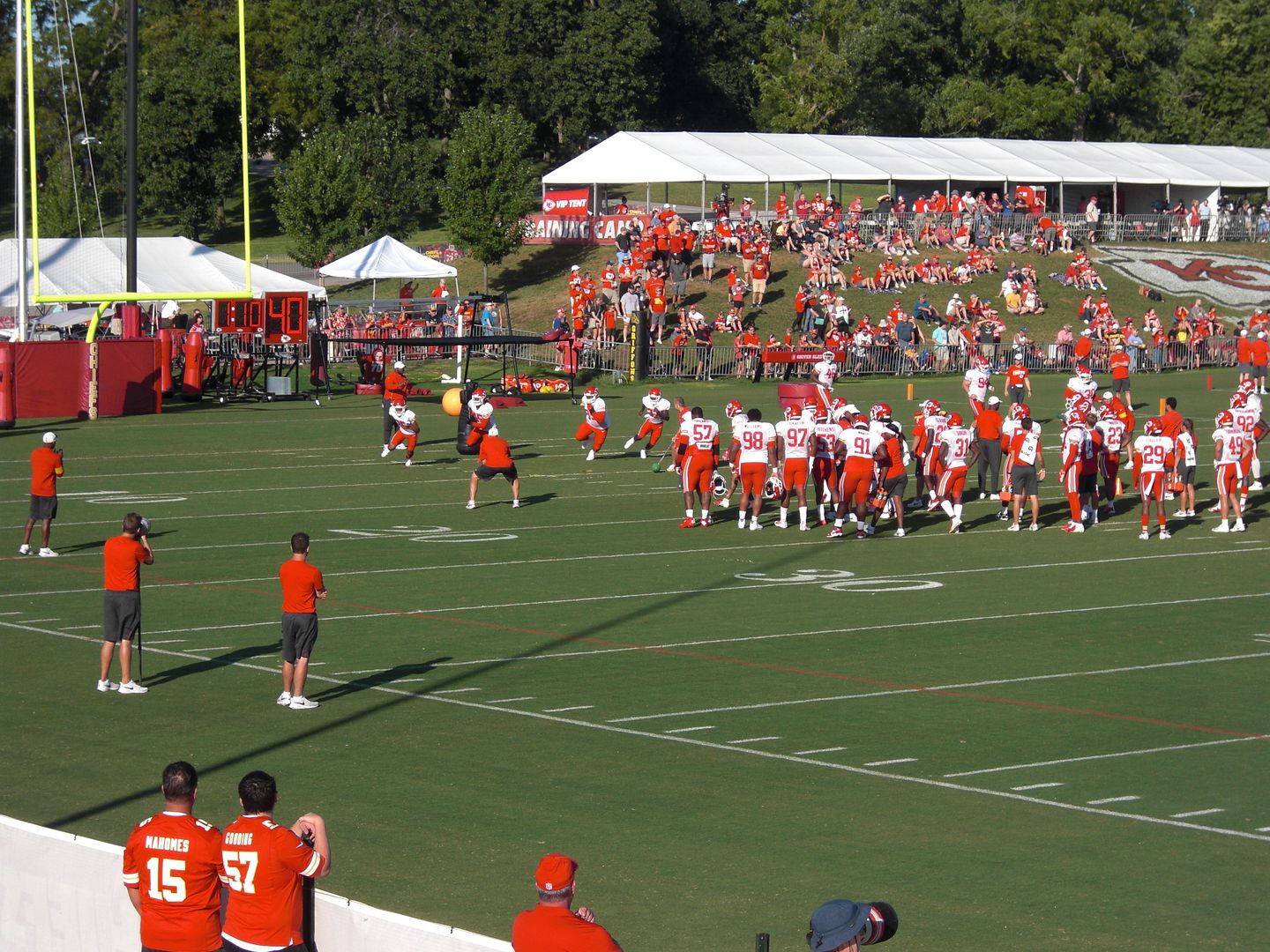 Spags' version of a wake-up call.
---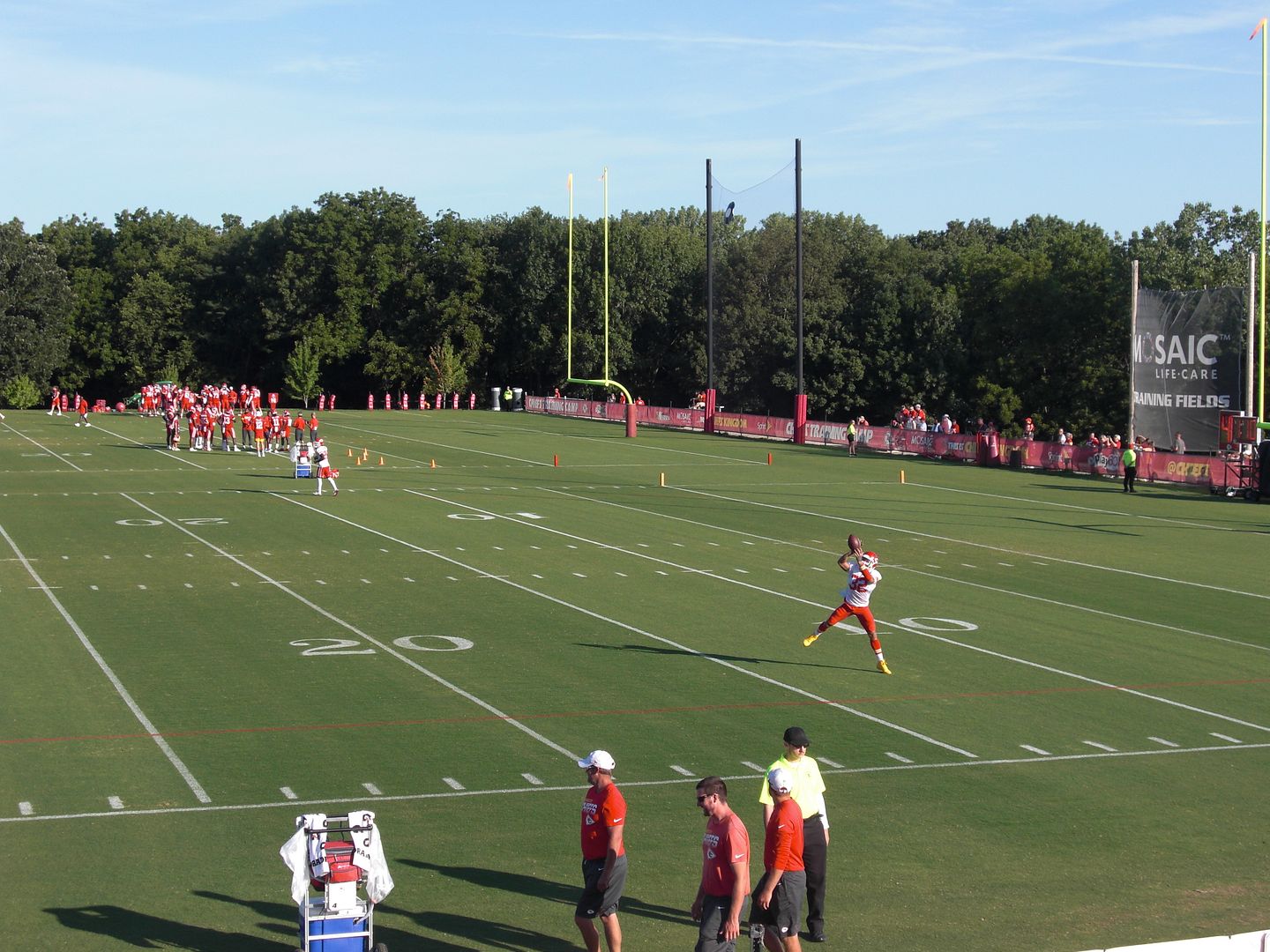 HB Mathieu is always easy to spot.
---
The guy in the yellow vest is what optimistic writers call "a good route runner."
---
Here is where the defense splits up for "installs."  1s and 2s with Spags on the left, 3s and 4s on the right.
---
Spags instilling his brand of defense.
---
Scrimmage time BOOYAH!
---
One of these guys forgot he's not actually a player.
---
Get there, Hitchens!  (He didn't get there.)
---
You've probably read about the drops, but 13 also had a pretty decent catch on the day.
---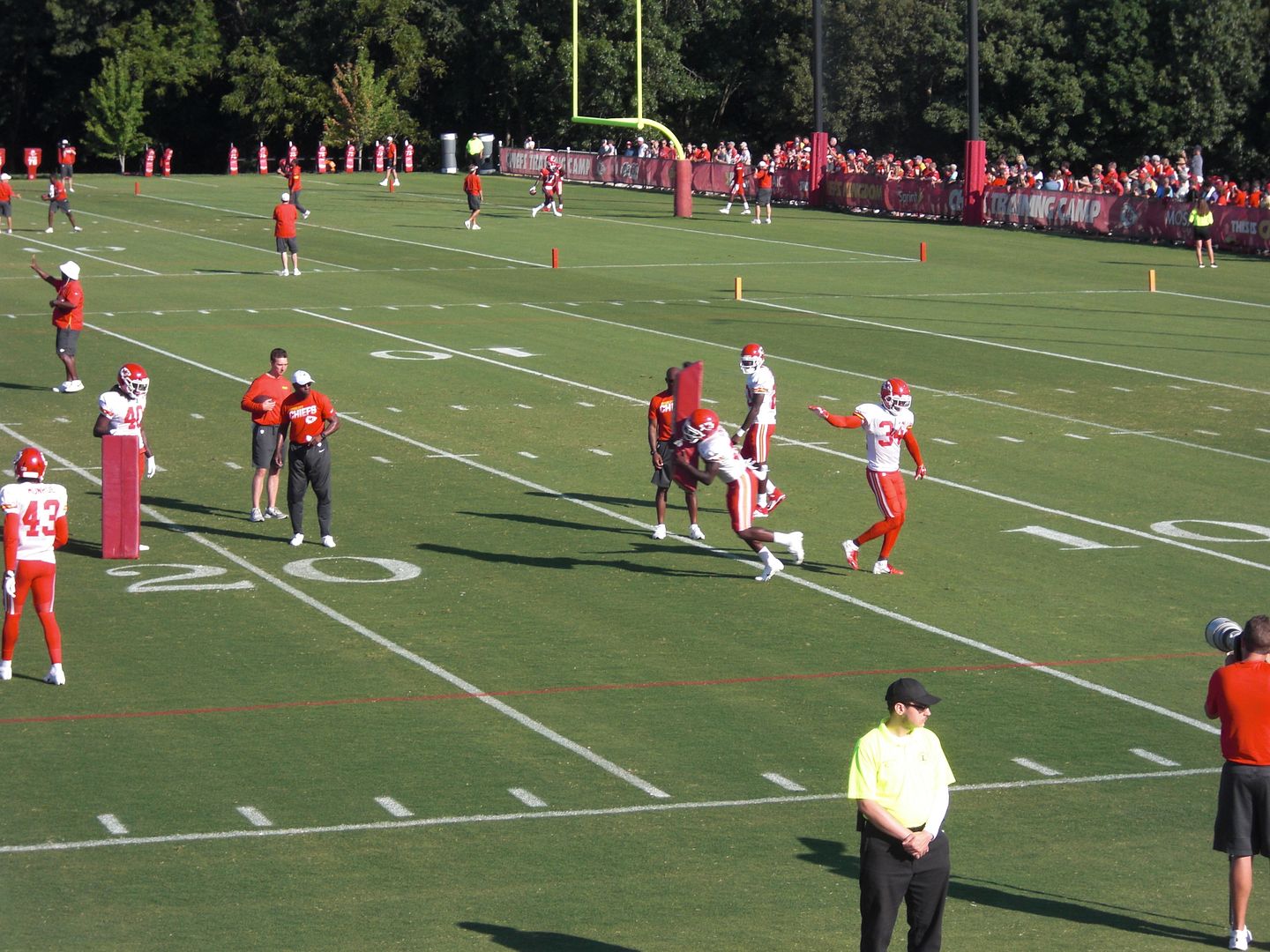 Who needs those silly robot tackling dummies when you have a 90-man roster?
---
THUNDER DOME!!!
---
Clark, being out there while sick.  Trynna make everybody else sick too.
---
"CHAMPIONSHIP ON THREE!"