Berserker's Training Camp Notes 13Aug2019
31 replies
I went out to practice today, and here's my notes.  Keep in mind that this isn't everything that went on in practice – not even close.  I missed a lot of things while I was doing stuff like looking at other things, taking photos, and, well, taking notes. 
I went out to practice today, and here's my notes.  Keep in mind that this isn't everything that went on in practice – not even close.  I missed a lot of things while I was doing stuff like looking at other things, taking photos, and, well, taking notes.  Also the fields are big, and some of the action was just too far away for me to make out numbers.  But here is what I did see and can remember, and hopefully it'll help get you through to the next game.
Nearly cloudless sky today, sunny, and sweaty.  I feel bad for the players in their helmets every time I feel a drop roll down my arm.  Doesn't seem to affect 'em much though, other than the linemen using up about five thousand towels per minute.
Big crowd out here for a Monday.  This would've been a respectable weekend-sized crowd in any other of the nine years of camp I've seen in St. Joe.  Folks must be excited this year, about something or other…
Opening special teams work, 29 Fuller and 27 Fenton are the only white shirts catching kickoffs.
Nobody is in the sick tent to open practice, although Tim Ward and D. Wade will move there once drills start.
In position drills, the Oline is doing a lot of work on combo blocks.
The secondary coach, Dave Merritt I think, is very vocal, very organized. From my sideline perspective, he's an impressive coach.
Spags is personally working through zone drops and positioning with LBs and secondary.  (hashtag PointOfEmphasis…)
The 2nd string in these zone drills with Spags consists of 59 Ragland, 50 Lee, 22 Thornhill, 23 Watts, 26 Fields, 27
Here is Spags explaining the philosophy behind pressing the line of scrimmage: "…No reason to be up here unless we smack the shit out of somebody."
3rd string Dline in this drill from left to right: 52 McCray, 93 Ivie, 74 Hamilton, 57
Next phase of defensive drills, they split up with 1s and 2s on one half of the field with Spags, 3s and 4s on the other half with other assistant coaches. 92 Kpassagnon is on 1/2s side, at RDE.
59 Ragland is with 1/2s, 50 Lee with 3/4s.
Glancing over at the offense's field, 82 Yelder is getting a lot of routes thrown to him.
4 Henne is practicing sprintout passes Mahomes Style.
10 drops a pass! 15 threw it with… an extreme level of anticipation.  I'd guess it was just about seven feet from Hill's face when he turned to look.
A few seconds later, a newer WR feels a Mahomes pass whistle by his ear before he even starts to look for it.  Coaching happens after this.  My toned-down translation of said coaching would be "Get your GD head around or a Mahomes football will knock it off your GD neck."
11 Robinson makes a very nice adjustment to come back to a slightly underthrown pass.  I'm truly impressed by how much Robinson has improved and advanced since his first camp.
14 Watkins just gets open, every time. He runs all the routes with timing, speed, and power.  He is an ideal receiver for Reid's system.
Backup DBs seem extremely confused by the offense's route combos. Reid's playbook is big.
19 Kemp is catching everything vs backups, looks much improved over last year's camp and preseason. I'm actually starting to have hope for him.
34 Herb Miller INT over 19 Kemp! Out-jumped Kemp for the catch, which is no joke.  I think Miller might actually have a chance  He struggles with zone drops, but he's dangerous when he locks up in man coverage, kind of a Ward-lite.  I'm sure I'll be in the minority with this taek, but I actually like what I've seen from Herb much more than I liked what I saw from Wade before Wade's injury.  Maybe I'm too partial to good man-coverage and not appreciative enough of zone coverage, but, well, there it is.
19 Kemp drops a wide open catch!  Right after I was praising him. Maybe Herb took a little piece of his soul when he took that last pass from him.
Watching 73 Allegretti in position drills, he obviously needs more time to pick up schemes. He often visibly struggles to know which way he's supposed to turn on a given call.
34 Miller (again!) nice slant breakup vs 14 Watkins.
83 Thompson shows sticky hands vs 32 Mathieu.
35 Ward with a good breakup vs 10 down the sideline, BUT people had to yell "BALL!!" to get him to look back for it… And he gets coaching from Spags afterward. Kinda tugs at the heartstrings, the way he was all happy, but then sadly dropped the ball on the ground when Spags called him over.  I hope this is just a temporary form of Eric Warfield syndrome.
84 Custis is doing well with contested catches. As few reps as he's gotten after getting (reportedly) the biggest signing bonus of any UDFA this year, gotta wonder if they're trying to hide him until they can sneak him onto the PS.
17 Hardman good contested catch vs 35 Ward, but he doesn't seem happy getting up off the ground. Not hurt, just not happy getting knocked around.  At least he's trying to improve with catching passes in traffic.
29 Fuller is not doing well with contested situations. Or with not slipping and falling down on sharp cuts.  I might be almost starting to worry about him.
Nobody can stay with 10 on comebacks.
19 Kemp looks very good on short-medium out breaking routes. Decently sharp cut and good retention of speed for somebody with his height, reach, and stride, which makes it nearly impossible to cover him from trail on those routes.
21 Breeland has perfect coverage and an INT vs 84 Custis, 8 Litton, and coach's misdirection. I say coach's misdirection because an offensive coach called out a route right before the snap, but Custis and Litton ran a completely different one…  Breeland was un-fooled.
Scrimmage time! 95 Jones and 92 Kpassagnon are the only two down linemen to start.
Defense blows up a screen to 14.  Blew it all to hell, actually.  Maybe somebody is learning Reid's playbook after all.
22 Thornhill is the 3rd safety to start off, in a nickel/dime look.
57 Speaks subs in after just one or two plays. Looks like he's mostly working at RDE today.
22 Thornhill positioned deep, 49 Sorensen in LB position at the LoS.  Thank God.
13 Pringle, 82 Yelder, 17 Hardman sub in quickly on offense.
57 Speaks WITH THE INT!! Zone drop on heavy pressure!
BUT THEN HILL TAKES IT BACK!  Speaks was running with it, and Hill caught him and straight-up honey badgered the ball!  Fat man just can't catch a break.
82 Yelder showing much better hands today than in the preseason game.  Hopefully that carries over to the next game.
Your 2nd string CB group for this scrimmage consists of 26 Fields, 27 Fenton, and 34 Herb Miller.
75 Erving is the 2nd LT today, and 73 Allegretti is the 2nd center.
29 Fuller and 23 Watts are blitzing a lot
Lots of DB blitzes in general today. It's really messing with the offense, even when the starting offense is in.
25 Darwin Thompson is in with twos.
9

Bray

Shurmur does a good job stepping up, delivering a good pass to 83 Thompson.
Second time the starting defense goes in, 57 Speaks is in at starting RDE. 92 Kpassagnon moves to LDE for this rotation.
25 Thompson catches a tough, hurried dumpoff from a pressured QB, then accelerates quick through traffic. I like him.
Defense is just wrecking the offense with various blitzes today, despite an almost complete absence of Clark and Okafor.
96 Cavon Walker looks strong coming around the left edge on 3rd string defense. He'd be a good guy to have on speed dial in case there's an injury during the season.
Next Special Teams period – 17 Hardman is the first punt returner up. Colquitt is dropping perfect spirals from the back of his own endzone.
Dline is working technique on the sideline during special teams period. Good stuff, that's a little more organization than I saw with the Dline last season.
Now comes one-on-one Dline vs Oline blocking drills. One of my very favorite things.  95 vs 76 are epic battles in these.  Like that time Buck Rogers fought Hawk.
73 Allegretti looks strong vs 91 Nnadi in one-on-one.  Allegretti seems to have some physical ability, but he needs to figure out the playbook.
57 Speaks just uses a straight bull rush on Fisher. It's not extremely effective.
52 McCray uproots 70
99 Saunders dominates 67 Murray.  Saunders seems like the defensive version of Allegretti…looks good in drills, but right now seems pretty lost when he's in the mix of live action.
74 Hamilton whiffs around 73 Allegretti twice in a row. This was with Allegretti lining up as a center, and it looks like he's having trouble recovering from the snap in time to block.  73 is not ready for center duty yet.
70 Murphy stones 92 Kpassagnon with patience and technique.  Tanoh spun three different directions that time, but got nowhere.
62 Reiter does a good job vs 95. Reiter will do fine with power, but I have seen him struggle vs quickness.  Jones tried to power through him this time, and it didn't work.
57 Speaks tries a swim move, but it turns into a head slap, and he gets coached. I think we're still not going to see a variety of pass rush moves from him.
Split out to position drills again… Oline working combo blocks again. To my completely untrained eye, these seem like the type of blocks you'd see in short yardage situations, where two Olinemen double one Dlineman out of the hole, and then one blocker kicks out to pick up a linebacker.
Last scrimmage period – Starting Dline is 57 Speaks, 91 Nnadi, 95 Jones.
With just two safeties on the field, 49 Sorensen is still starting out deep…. I have heard things lately about Thornhill taking over the starting FS role, but to my eye today, that hasn't actually happened.  Yet.  Dammit.
92 Kpassagnon and 74 Hamilton rotate in after just two plays.
54 Wilson is getting a lot of snaps.  This past offseason, there's been an assumption amongst some fans (i.e. me) that the SLB will be the first guy off the field in nickel/dime, but that may not actually be true according to what I'm seeing in practice today.
Loud collision in the backfield between 54 and maybe 59 (sorry, happened at the other end of the field and my eyes aren't binocular'd), when they converged on a blitz. Maybe 59 limps off, but comes back a couple plays later.
Defense is still dominating the day with blitzes.
25 Darwin is getting handoffs with starters! Looks quick.
15 gets flushed by an unblocked 57, runs away, scores.
19 Kemp is also getting reps with starters. He high points a TD from Mahomes!  I'm starting to have hopes for this kid.
Last special teams period, Hill is the first punt returner, 17 Hardman second, 89 Davis 3rd.
They are practicing gunner techniques, downing punts inside the ten. Colquitt is kicking tumblers right to the ten yard line. 6 Fox is also placing punts well, right in front of the goal line.
84 Custis seems to be a primary gunner, along with 19 Kemp and 13 Pringle.  So, maybe they plan for Custis to follow the same career arc as Kemp, if they don't feel like they can keep him on the PS.
That's all for today, folks.  I'd say my standouts for the day were:
Kemp, who's starting to seem like he legitimately deserves the 5th WR spot on this team…
Herb Miller, who I think can be everything that Wade was recently hyped up to be and more, if only he can figure out Zone Defense….
Bashaud Breeland, who actually looked the part of a #1 CB today….
And Darwin Thompson, who I'm glad is on our team just because he looks exactly like the sort of unsung out-of-nowhere type RB who's murdered our defense in the past more times than I want to remember.  Also because he seems like a really good player.
Hope this helps you get through the rest of this otherwise football-less day.
GO CHIEFS!!
Oh wait, almost forgot, pictures…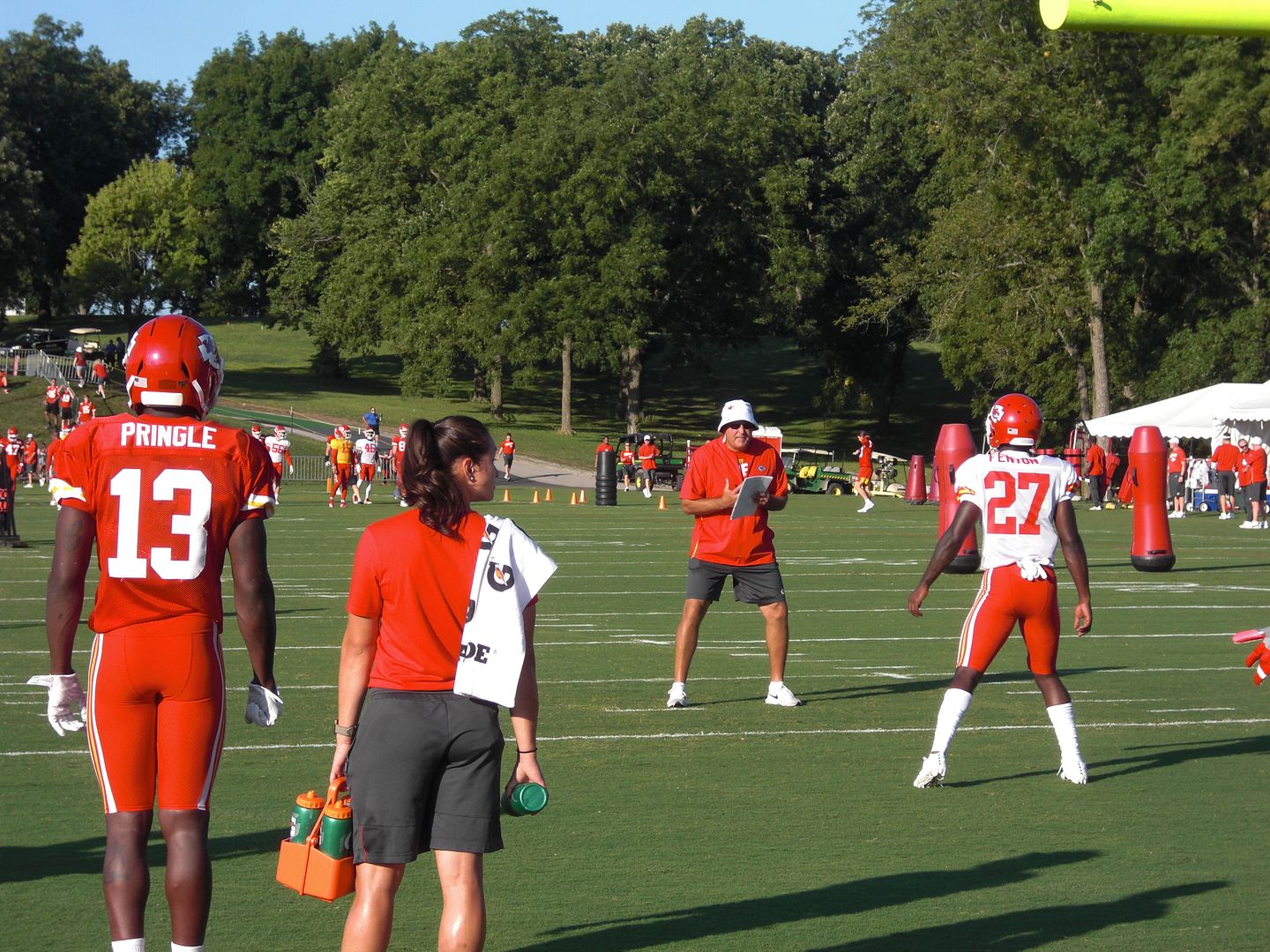 Coach 'em up, Coach!
---
I was here today.  I bet you wish you were here today.
---
"GRUNT, HURK, RAARGH!!"
---
Legion of Zoom ain't got no time to stand still for Berserker's pics.
---
I swear, more sweat than Cool Hand Luke.
---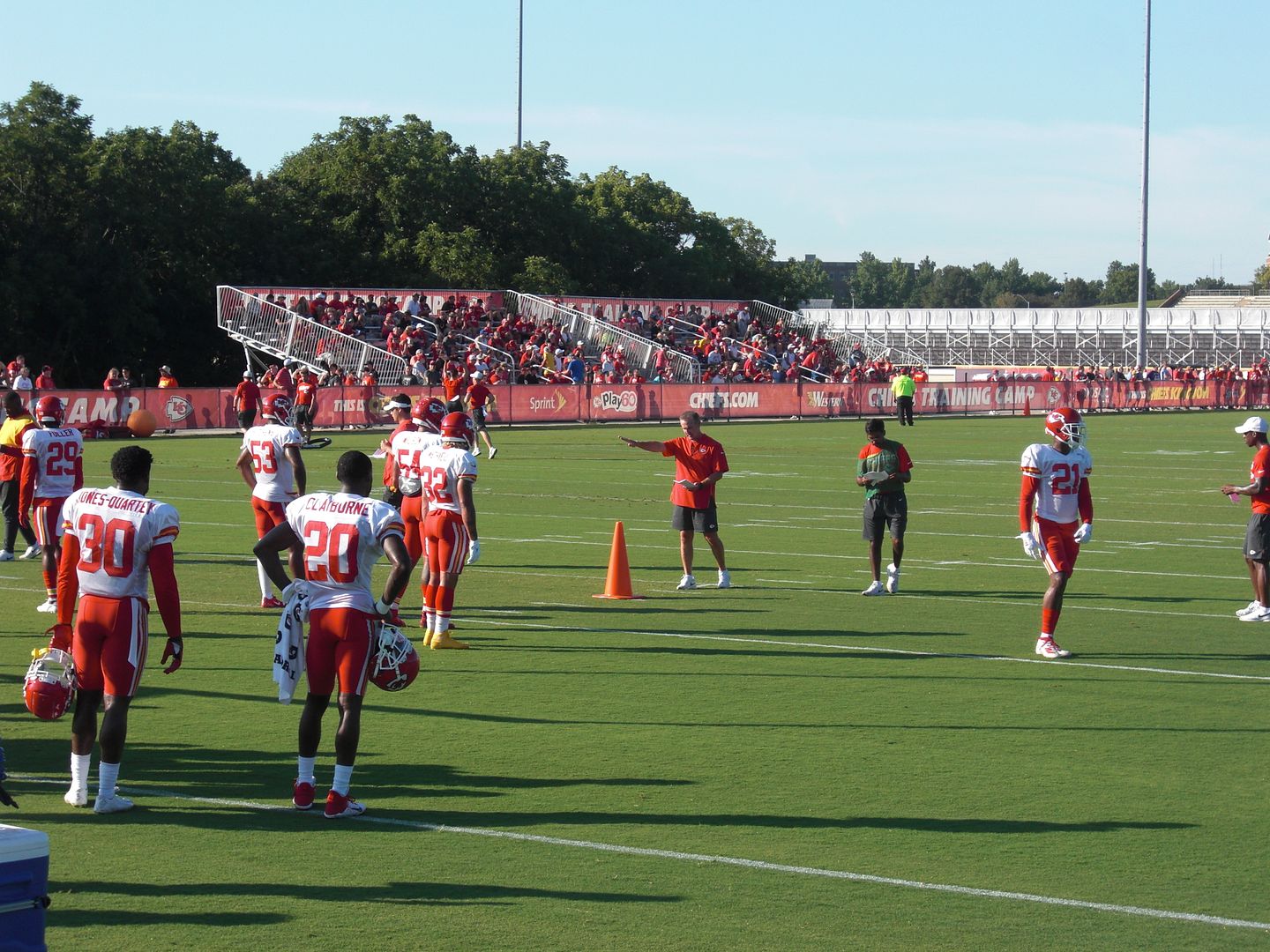 "Smack the shit out of somebody!"
---
Who's it gonna be….?
---
Kemp with the sideline stretch.
---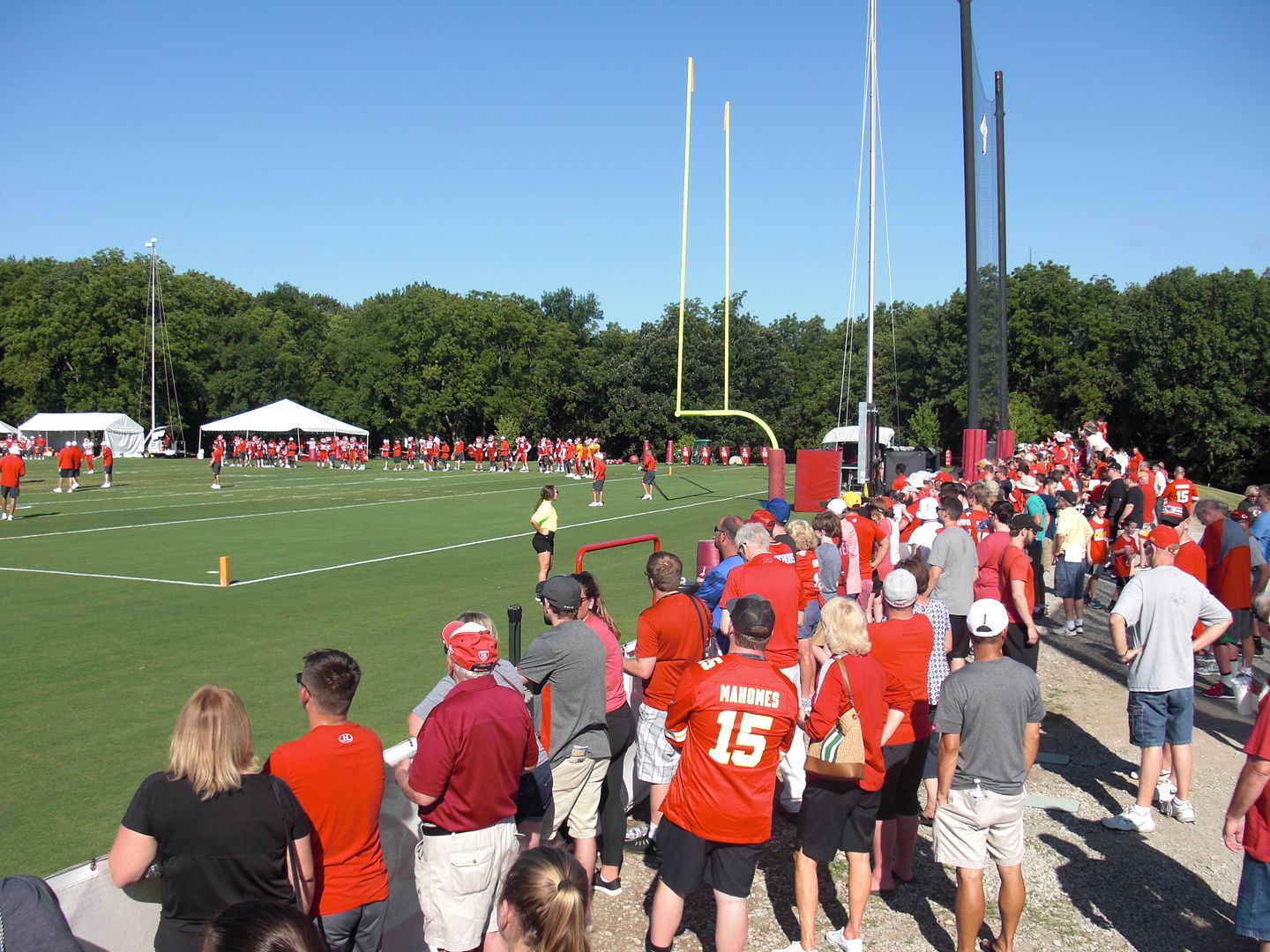 So many short Chiefs fans!
---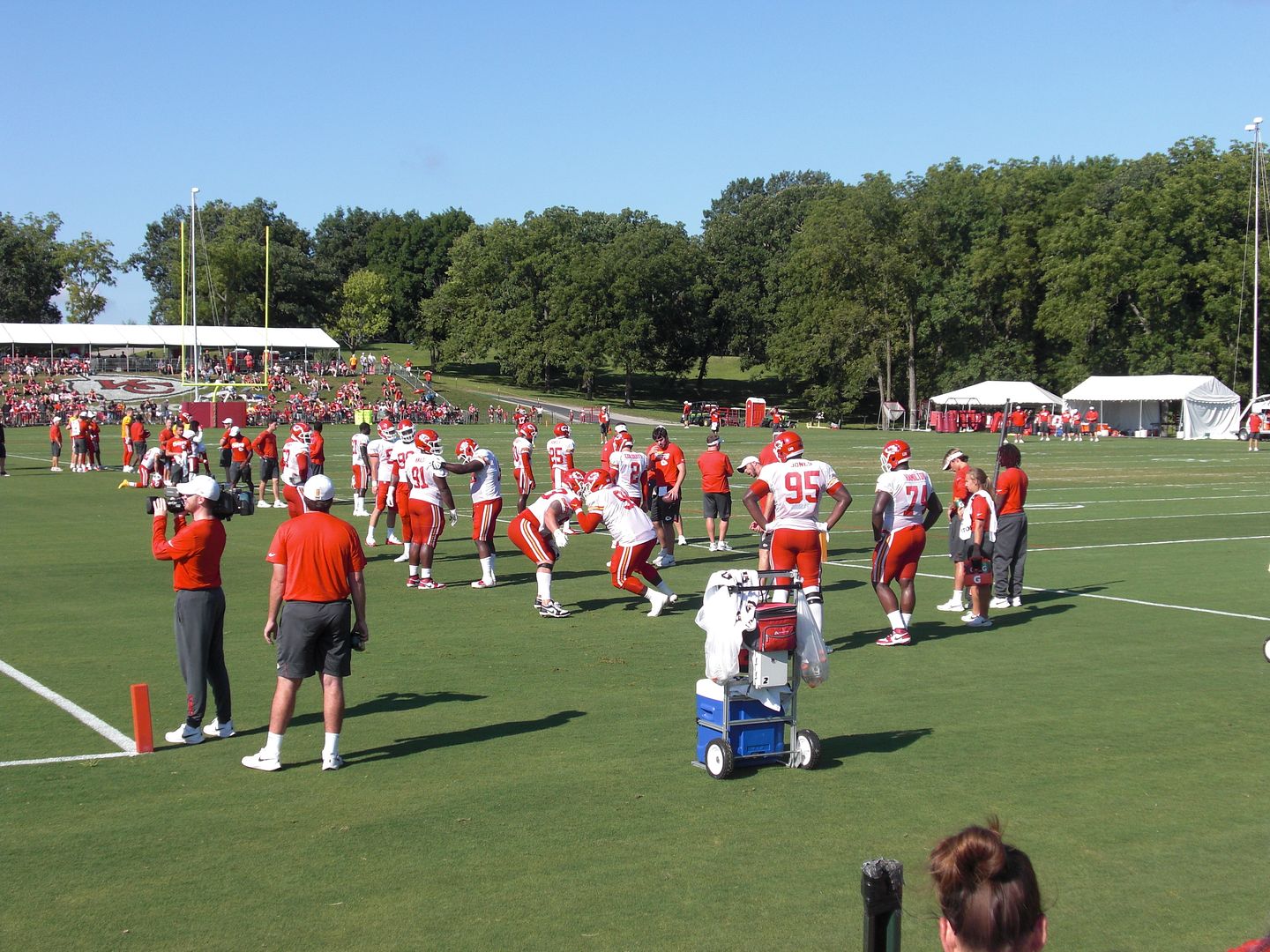 "RAARGH, HURK, GRUNT!"
---
But seriously, holy shit.  We're gonna win the godamn Superbowl.
---