With the 24th Overall Pick, the Raiders Select…
21 replies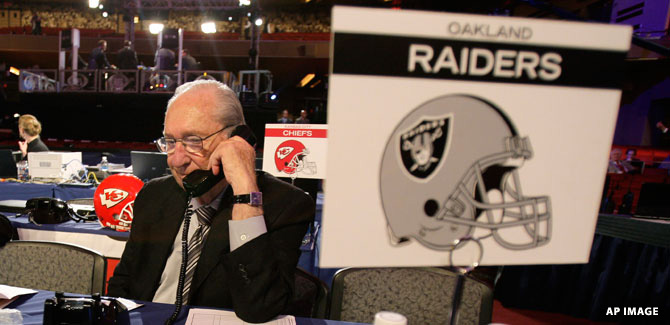 It's a little-known fact that Mark Davis has a particular show he likes to watch while he gets his weekly bowl cut. So little-known you may think I just made it up. But you're an idiot. You might be right about that. Word around whatever city doesn't currently want the Raiders is that the man is quite a fan of "Last Change U". His favorite player? Isaiah Wright, RB. For obvious reasons.
Mark is such a fan of Isaiah Wright that when he hired Mike Mayock, he had it written in poor Mike's contract that he would draft the former Netflix star with this very pick. And I can prove it*. A freak athlete with off the field issues who was cleared of murder charges? Match made in heaven Oakland Vegas nowhere.
After the last several years it appears the front office of the butt black hole has finally realized that signing the oldest players available isn't getting it done. The group of backs on the roster leaves a lot to be desired, even for this staff.
So without further ado… with the 24th pick in the 2019 NFL draft, the Oakland (?) Raiders select…
BREAKING NEWS – Jon Gruden has just informed Mark Davis that Isaiah Wright is not eligible for the NFL draft.
Dammit.
With the 24th pick in the 2019 NFL draft, the Raiders reluctantly select Josh Jacobs, RB Alabama.
*I can't prove it

Oakland Raiders GM jmgunn0124 selects: RB Josh Jacobs, Alabama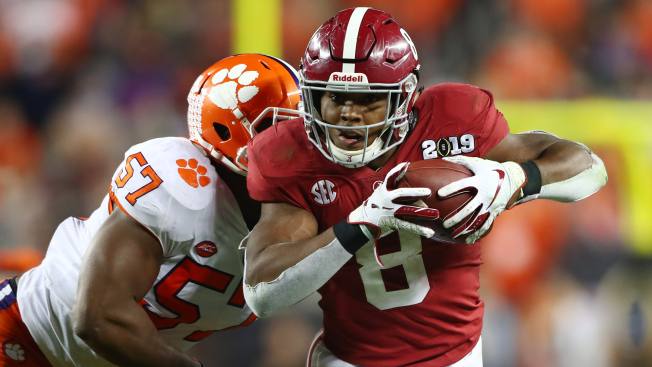 Arizona Cardinals – DT Quinnen Williams, Alabama
San Francisco 49ers – DT Ed Oliver, Houston
New York Jets – EDGE Nick Bosa, Ohio St
Oakland Raiders – EDGE Josh Allen, Kentucky
Tampa Bay Buccaneers – CB Greedy Williams, LSU
New York Giants – EDGE Montez Sweat, Mississippi St
Jacksonville Jaguars – OT Jawaan Taylor, Florida
Detroit Lions – LB Devin White, LSU
Buffalo Bills – OT Jonah Williams, Alabama
Denver Broncos – LB Devin Bush, Michigan
Cincinnati Bengals – QB Kyler Murray, Oklahoma
Green Bay Packers – TE Noah Fant, Iowa
Miami Dolphins – QB Drew Lock, Missouri
Atlanta Falcons – WR D.K. Metcalf, Ole Miss
Washington Redskins – QB Dwayne Haskins, Ohio St
Carolina Panthers – OT Andre Dillard, Washington St
New York Giants – DT Dexter Lawrence, Clemson
Minnesota Vikings – OT Cody Ford, Oklahoma
Tennessee Titans – TE TJ Hockenson, Iowa
Pittsburgh Steelers – WR Marquise Brown, Oklahoma
Seattle Seahawks – EDGE Clelin Ferrell, Clemson
Baltimore Ravens – EDGE Brian Burns, Florida St
Houston Texans – CB DeAndre Baker, Georgia
Oakland Raiders – RB Josh Jacobs, Alabama
Philadelphia Eagles –
Indianapolis Colts –
Oakland Raiders –
San Angeles Chargers –
Kansas City Chiefs –
Green Bay Packers –
Los Angeles Rams –
New England Patriots –
Do you approve of this pick?
Total Votes: 28