With the 22nd Overall Pick, the Ravens Select…
15 replies
Embed from Getty Images
Wide Receiver, Linebacker, Edge Rusher, Interior Offense Line, Safety. Ask around, and those are the positions commonly felt to be the Baltimore Ravens biggest needs heading into the draft. The top receiver currently on the roster is Willie Snead, who totaled 651 yards and solitary touchdown last season. There are holes at ILB, Edge, and Safety after the free agency departures of veterans C.J. Moseley, Terrell Suggs, and Eric Weddle. The offensive line was a mixed bag last season, and more talent will be needed to both help the running game and protect the Quarterback.
Ask me however, and I'll tell you that the Ravens need a Quarterback. "Uhhh, they've got Lamar Jackson, you idiot", I heard many of you say. Well I hate to use a comparison like this, since comparisons are such a lazy and overly simplified way of evaluating a player, but I will because I'm a lazy simpleton. Lamar Jackson is basically Colin Kaepernick. He's a quarterback who is a great runner. Unfortunately he doesn't do the passing side of things very well, and a quarterback's job is 80%+ passing.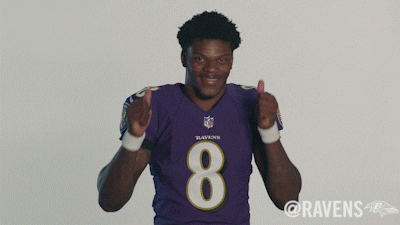 In the NFL, if you don't have one of the top half-dozen Quarterbacks in the league, you don't have a chance. I don't believe we have a chance. That's why I tried to trade up get Kyler Murray – a guy who can do everything Lamar can do, but can also throw accurate passes and read defenses. He's the only quarterback we believe is worth taking.
We didn't have the draft capital to be able to trade into the top 5 picks, but once the Giants passed on Murray at 6, I knew we had to start calling around to find a trade partner. The Jags, Lions, and Bills are all set at QB for the next few years so I knew they wouldn't be looking at Murray. The Broncos at pick 10 aren't committed to Joe "Plays Under Center" Flacco, but I knew that Horseface would never take a QB under 6'6. That left the Bengals as the next likely team to go after Murray.
The problem was Horseface wouldn't even take my calls. Apparently he's still mad at us for duping him into trading for a washed up, tall, dud QB. Or maybe he's still mad about the 2012 AFC Divisional game – The game that Elway still thinks represents Flacco's quarterbacking ability. Either way, time had run out, a trade never happened, and our "rival" Bungles did end up taking Murray to supplant their own dud quarterback.
All of that left us in a position to take the best player available from our list of needs. We identified a guy, who may not be a generational talent, but he has high upside – a real boom or bust prospect. He's a real high-motor guy, who can get to the quarterback. He doesn't have any red flags, and he's a real high-character guy. He's undersized for an Edge but we think he can fill out his frame. He's got tremendous bend, and don't let me forget about his fluid hips. He's a guy that really flashes on film and we think he's going to end up being the steal of the draft.
Baltimore Ravens GM Tyrone selects: EDGE Brian Burns, Florida St
Embed from Getty Images
Arizona Cardinals – DT Quinnen Williams, Alabama
San Francisco 49ers – DT Ed Oliver, Houston
New York Jets – EDGE Nick Bosa, Ohio St
Oakland Raiders – EDGE Josh Allen, Kentucky
Tampa Bay Buccaneers – CB Greedy Williams, LSU
New York Giants – EDGE Montez Sweat, Mississippi St
Jacksonville Jaguars – OT Jawaan Taylor, Florida
Detroit Lions – LB Devin White, LSU
Buffalo Bills – OT Jonah Williams, Alabama
Denver Broncos – LB Devin Bush, Michigan
Cincinnati Bengals – QB Kyler Murray, Oklahoma
Green Bay Packers – TE Noah Fant, Iowa
Miami Dolphins – QB Drew Lock, Missouri
Atlanta Falcons – WR D.K. Metcalf, Ole Miss
Washington Redskins – QB Dwayne Haskins, Ohio St
Carolina Panthers – OT Andre Dillard, Washington St
New York Giants – DT Dexter Lawrence, Clemson
Minnesota Vikings – OT Cody Ford, Oklahoma
Tennessee Titans – TE TJ Hockenson, Iowa
Pittsburgh Steelers – WR Marquise Brown, Oklahoma
Seattle Seahawks – EDGE Clelin Ferrell, Clemson
Baltimore Ravens – EDGE Brian Burns, Florida St
Houston Texans –
Oakland Raiders –
Philadelphia Eagles –
Indianapolis Colts –
Oakland Raiders –
San Angeles Chargers –
Kansas City Chiefs –
Green Bay Packers –
Los Angeles Rams –
New England Patriots –
Do you approve of this pick?
Total Votes: 25