With the 20th Overall Pick, the Steelers Select…
15 replies
Embed from Getty Images
Meeting room at Heinz field:
Kevin Colbert: "Hey Mike, let's talk about what we should do with the 20th pick in the draft, I'm thinking we should look for a cornerback. We have to stop OBJ twice a year now, and if we want to win in the playoffs we'll have to figure out how to not let Patrick Fucking Mahomes throw 6 TDs against us like last year"
Mike Tomlin: "Corner makes sense, those jagoffs we had last year couldn't pick off a pass to save their life. But, we added the ballhawk Steven Nelson, he can track balls with the best of him. I can't believe the Chiefs wouldn't pay him $8.5 million a year, such a steal for an elite corner. I think we should add a linebacker, or lineman to shore up this run D"
Colbert: "That makes sense too, at least we got rid of most of the distractions on offense. Conner and JuJu are fine, and we've got our QB to learn from Ben, no need to take an early pick on offense"
Tomlin: "Glad you found the Raiders to give us something for Brown, that guy needs to figure out how to keep his emotions off the internet. He did not fit Steeler Nation at all."
Enter Ben Roethlisberger: "Hey guys, what Y'inz talking about?"
Tomlin: "We're talking draft. First round we're gonna go D. We gotta stop the Browns and Chiefs and Pats to win again"
Roethlisberger: "You're kidding right, D? I'm gonna retire any minute and you ran off my best weapons. It's just me and some kids on offense"
Colbert: "Oh yeah, kids, that's right, we totally ran everyone off, you're right Ben, you're the leader, whatever you say"
Roethlisberger: "Isn't Antonio's cousin in this draft, why don't we just take him, that'll work out perfectly. We'll never have an issue with him."
Tomlin: "Uh, you're joking right Ben"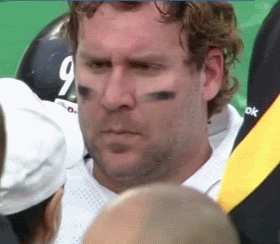 Roethlisberger: "Why would I be kidding? The only thing better than Antonio is these pierogis I'm eating. Defense is for chumps, don't you want me to throw for 5,000 yards again and make sure I make the hall of fame? You wasted a pick on a QB last year when we could have drafted another receiver and then thought I'd help him out. HA!"
Colbert: "You're right Ben, whatever you say, Marquise Brown it is, no way anyone else will take him that early, so that just made all our draft prep easy too!"
Roethlisberger: "Great, now let's go get some IC Light and Primanti Brothers and watch some hockey. At least there's 1 team in the 'Burgh that remembers how to win."
Pittsburgh Steelers GM Andy Reid The Walrus King selects: WR, Marquise Brown, Oklahoma
Embed from Getty Images
Arizona Cardinals – DT Quinnen Williams, Alabama
San Francisco 49ers – DT Ed Oliver, Houston
New York Jets – EDGE Nick Bosa, Ohio St
Oakland Raiders – EDGE Josh Allen, Kentucky
Tampa Bay Buccaneers – CB Greedy Williams, LSU
New York Giants – EDGE Montez Sweat, Mississippi St
Jacksonville Jaguars – OT Jawaan Taylor, Florida
Detroit Lions – LB Devin White, LSU
Buffalo Bills – OT Jonah Williams, Alabama
Denver Broncos – LB Devin Bush, Michigan
Cincinnati Bengals – QB Kyler Murray, Oklahoma
Green Bay Packers – TE Noah Fant, Iowa
Miami Dolphins – QB Drew Lock, Missouri
Atlanta Falcons – WR D.K. Metcalf, Ole Miss
Washington Redskins – QB Dwayne Haskins, Ohio St
Carolina Panthers – OT Andre Dillard, Washington St
New York Giants – DT Dexter Lawrence, Clemson

Minnesota Vikings – OT Cody Ford, Oklahoma
Tennessee Titans – TE TJ Hockenson, Iowa
Pittsburgh Steelers – WR Marquise Brown, Oklahoma
Seattle Seahawks –
Baltimore Ravens –
Houston Texans –
Oakland Raiders –
Philadelphia Eagles –
Indianapolis Colts –
Oakland Raiders –
San Angeles Chargers –
Kansas City Chiefs –
Green Bay Packers –
Los Angeles Rams –
New England Patriots –
Do you approve of this pick?
Total Votes: 33