Tyreek Hill Linked to Investigation for Battery
307 replies
Brooke Pryor just released a story, detailing…well, we're not quite sure. Something happened. Maybe at Tyreek Hill's house. Maybe involving his fiance. Possibly their child was injured.
Pryor's initial tweet detailed Hill being under investigation for battery and the article stated the arm of Hill's infant child had been broken. However, the article has apparently been changed to remove that detail, and the involvement of Hill in the event that did or did not happen, isn't clear. From what I've read, Hill has not been accused or identified as having done anything regarding this situation.
By all accounts, what we know is the incident occurred at his home, and his fiance has spoken to authorities regarding it. This could mean she was involved, or it could mean their child simply fell, injured his arm, and someone decided to report them. We simply do not know at this time which is why:
Its important not to jump to conclusions until we know more!
Update:
The initial story said Tyreek's son had a broken arm. The article was updated (WITHOUT BEING NOTED) and removed this. **Note: they have added this back in.
Update #2:
This article states:
Hill's name is not listed on the most recent battery report, but his address is the listed location.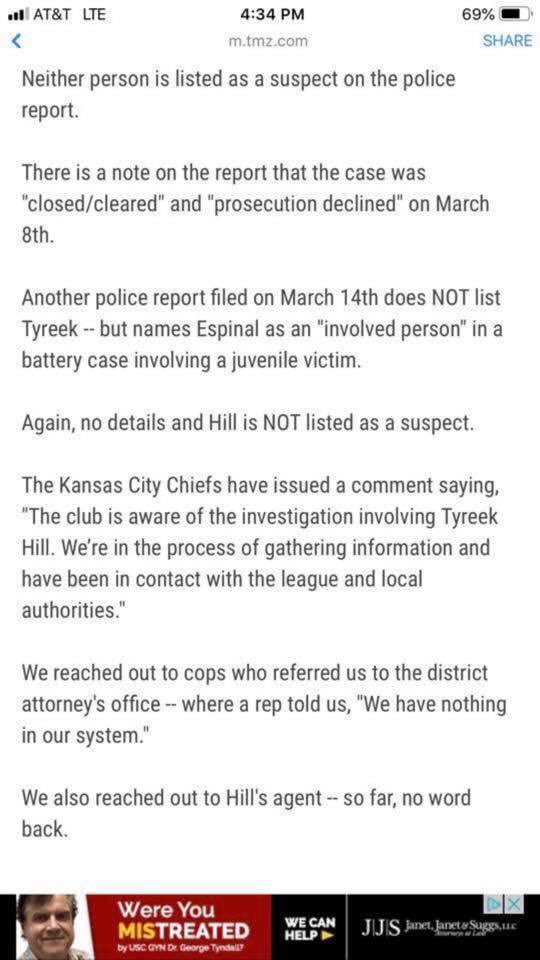 Update #3:
A tweet from 2 days ago. Apparently CPS is also involved. However, a Snapchat picture from yesterday shows no sign of a broken arm.
But this tweet from January does show a cast.
Update #4:
Update #5:
We will update as more information becomes available